The Bridge Leadership Foundation presents its Education Summit and Scholarship Awards scheduled to hold on Friday, November 19, 2021, at the Pearl Ball Room, Transcorp Hotel, Calabar, Cross River State by 10 am. The one-day summit is its 7th edition is themed "Innovative Strategies For Quality Education." Attendance at the event is FREE. The event will also be streamed live on the organization's Facebook and YouTube platforms.
The Bridge Education Summit and Scholarship Awards seek to share initiatives, practices, models and facilitate knowledge exchange that contributes towards the achievement of general education, learning, and development of young people in today's society, especially through formal learning institutions and increasingly unconventional methods. In the past seven (7) years, the award event has had over 3,101 physical attendants, and 400 virtual participants in 2020. Since the inception of the programme, the Foundation has awarded academic scholarships to 182 students in public secondary schools and Universities across communities in Cross River State and beyond.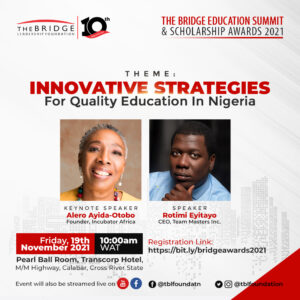 This years' theme will explore best practices, initiatives, and relevant actions, policy frameworks that will drive education for all from an inclusive perspective with references to access quality, and technology adoption in the face of growing technological advancements targeting Students, Educators, and Key Stakeholders.
Sub-themes of the Summit include "Reshaping Nigeria's Learning Ecosystem: The Way Forward" and a Panel Discussion on the topic "Peer Pressure and Its Effect on Learning." In remote communities in Nigeria, students still lack access to quality learning, the learning curve in Nigeria currently does not address issues such as; access to relevant curriculum, grade progression, effective classroom engagement, creative learning, experienced teachers, and introduction of digital learning.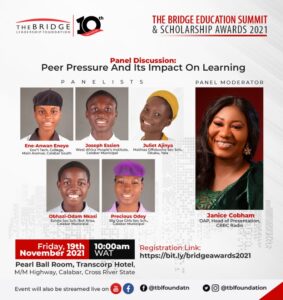 The conversation will centre on; the present challenges affecting our education system and the way forward, innovative solutions already being implemented by countries in Sub-Saharan Africa, propose strategies that can be most effective in developing our education system and much more will be discussed.
The Keynote Address and the sub-theme will be presented by Alero Ayida-Otobo, Founder – Incubator Africa and Rotimi Eyitayo, CEO – Team Masters Limited respectively, the panel discussants include Ene- Anwan Eneyo, Joseph Essien, Juliet Ajinya, Obhazi-Odam Nkasi, Precious Odey and will be moderated by Janice Cobham, On-Air Personality, Head of Presentation – CRBC Radio. The Summit will be compered by Uke Ogah, On-Air Personality – Hit 95.9 FM.
ABOUT TBLF:
The Bridge Leadership Foundation (TBLF) is a non-governmental organization established in 2011 with a vision "to raise a community of inspired, equipped and influential young leaders who are able to lead themselves and others". Over the last 10 years, TBLF has implemented programmes that not only inspire, empower, and engage youths, but create effective connections and mentorships that aid these young people to become leaders in themselves and to others. TBLF collaborates with credible organizations to deliver its programs and has influenced thousands of young people since its inception.